Use gamified e-learning to achieve success!
We make revising easy and fun while helping improve students' results.
Supercharge your success!
Automated Quizzing
---
Automated, self-grading quizzes allow students to check their own understanding & reward their efforts.
Learn Anywhere
---
Students can access the e-learning courses wherever they are. All of the e-learning courses work fantastically on mobile.
Progress Tracking
---
Students can easily see their progress throughout the course so they can see exactly what they need to focus on.
Gamified E-Learning
---
Students complete achievements to gain XP and level up. They can even compare progress with peers on their leaderboard.
Active Students
50,000+
Active Teachers
3,000+

Subscribed Schools
900+
Lessons Available
600+
Comprehensive Lessons
KnowItAll Ninja's e-learning courses are designed to thoroughly cover the specification content for each course.
Every lesson has detailed explanations, presentations and self-marking quizzes. Many courses also include animated explainer videos to further support learning in an engaging way.
Gamified Learning
As students complete quizzes and progress through a course they'll receive achievements, experience points & levels.
These provide great positive feedback for their successes that has proven to help engage learners in their studies. They can even join the public leaderboard to compete each week against others.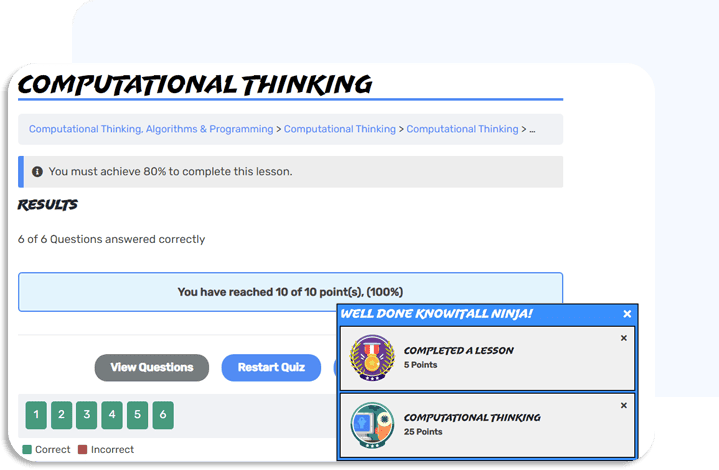 Testimonials
Melissa Parker
Broadway Academy
I just wanted to thank you for the resources you have created. They are excellent quality and have saved me so much time which I am sure you can appreciate is very precious.
Philip Golding
Bexhill 6th Form College
Congratulations on an excellent and valuable resource. As an ICT/Computing teacher for both level 3 and level 2 courses, this website has delivered exactly what is needed (and is desperately missing) from the exam board.
This learning platform is great because you can get high grades. I just recently did my Unit 1 for IT and I came out with a distinction.
Remarkable revision material! Very vivid which makes it very easy to remember and is my favourite method of revision.
Sabeena Kauser
Joseph Leckie Academy
KnowItAll Ninja has engaged all of our learners at KS4 and at KS5 and they have got into the content with ease. Thank you for making this so easy for them. WE LOVE KnowItAll Ninja.
Dave Fountain
Astor College
Students love the instant feedback and the quizzes are the launchpad for many an in-depth discussion of the topics – great coverage of the syllabus too!
I would just like to say how much of a helpful tool KnowItAll Ninja has been to me and my class. We have completed the entire syllabus and it has helped us to achieve our target grades.
Join over 50,000 students learning on KnowItAll Ninja